Ucapan Pernikahan Islami – Ketika Grameds hendak menghadiri pernikahan rekan yang beragama Islam, pasti akan membawakan bingkisan sebagai kado 'kan?
Nah, dalam bingkisan tersebut umumnya akan diberi ucapan selamat, sama halnya dengan kado saat perayaan ulang tahun. Namun, banyak pula yang masih bingung dengan bagaimana ucapan pernikahan islami, supaya tidak pasaran ketika diterima oleh sang empunya acara.
Lantas, bagaimana sih ucapan-ucapan pernikahan islami yang tidak pasaran terutama dalam bahasa Inggris supaya bingkisan terlihat begitu spesial? Yuk, segera simak ulasannya berikut ini!
33+ Ucapan Pernikahan Islami Dalam Bahasa Inggris
The journey you two are starting today, may never end. May your love for each other always remain strong like this.
The day you two had been waiting for has come to you at last. Make the most of it and enjoy this special wedding day.
It's great to know that you guys are getting married. I always knew you guys would end up being with each other. Wish you guys a beautiful married life.
Congratulations to you guys! Have a great wedding day full of enjoyment and precious moments. And stay together forever!
Allah created a soul at first and then he divided it in two. So that he can join them again together in marriage! You two complete each other!
Oh Allah, bless them. Bless them with untold happiness and joy. They may love each other and cherish each other forever.
May Allah strengthen the knot that keeps your hearts together and blesses two hearts with faith and love for each other! Happy wedding!
May this marriage last as long as eternity and bring endless joy to everyone close to these beautiful souls. May Allah shower you two with everlasting peace and happiness!
All praises be to Allah that he brought two pure hearts close to each other and tied them in a holy knot of marriage. May his blessings be with you always!
Masya Allah! You're the perfect couple I have ever seen! Both of you are like soul mates for each other and together you are so strong that no one can defeat you. Allah! Keep them in your blessings!
Masya Allah! You are both the gift of Allah. Always be honest and loyal. I hope you stay together on this wonderful journey of love. Congratulations!
Assalamualaikum! After a long time finally, both of you decided to get each other for the lifetime. Allah! You are loving and merciful. Put love in their heart. Happy wedding!
Alhamdulillah! Congratulations! As you unite in marriage I wish you years of happiness, love, and joy! May Allah bless you!
My beloved bride and groom! Congratulations on your wedding! You know love is the basis of all happiness, keep loving each other!
May Allah always guide you on the right way and help you to take the right decisions, always follow the instruction of the holy Quran and make your life peaceful and easy. May God bless your marriage and keep it safe.
Now you start this new journey in your life. Subhan Allah! Hope you'll always give each other unconditional love. Wishing you the best luck and the most beautiful life ahead!
Dear! To getting married is amazing. But it's not all about fun and enjoying, rather a great responsibility. As a Muslim it's Sunnah! Nikah Mubarak!
Oh Allah! You are loving. Give this loving couple the ability to stay together! Wishing you the happiest conjugal life. May Allah bless you!
You look so happy on your wedding. Alhamdulillah! This happiness is the indication of your love and the blessing of Allah! Wishing you a very happy beginning of your new life.
Masha Allah! It looks like you both are made for each other. May Allah make you the world's best beautiful couple! Best wishes on your wedding!
Without trust, there can be no love! So, keep trust in each other and fell the happiness of life. Go ahead by following the way of the Holy Quran. Our prayer is always with you. Mubarak of Weeding!
Dear! Mubarak on your special day! Always try to feel each other's heart and soul. Always support and understand each other. And never let go of this love of your life. May Allah bless you!
By the marriage you get the recognition of society and family. You also perform a Sunnah! There may be ups and downs in life, make sure never stop holding each other's hands for the lifetime. Best wishes!
Congratulations on your wedding day. May Allah give you full of happiness and joys, and happiness remain until the last day of your life.
Today two souls of yours have turned into one. MashAllah! Make the bonding tighter. My heartily Mubarak to you on your special day! May your life be filled with light.
Dear, the most important part of your life has already started. Alhamdulillah! Always show respect to each other and never leave even when life becomes more painful. Nikah Mubarak!
Mubarak on the special occasion! You know, Trust is the main basis of love and happiness. May you always hold on to each other with trust and faith. Allah always with you!
Mubarak on your wedding! You have a bright future. Face life together and make the promise that you will never leave each other. We all pray for your happy life.
To the special couple who always stood by each other in every situation and loved each other, may your love grow more and more! Happy wedding!
Happy Wedding! wishing you an amazing start to a wonderful life together. May Allah show you guys the right path in life.
No couple is as perfect as you two. Congratulations on your wedding. Allah created you too just for each other.
Many years will go by but only the strongest of bonds shall stay intact. I wish you two have the best wedding. May your bond grow stronger.
An Islamic wedding is the best reward for a pair who is truly and deeply in love with each other! I wish you two long-lasting and fruitful marriage!
There is nothing in this world so pleasing as seeing a happy Muslim couple. I hope to see the same spark of joy in your eyes forever! Happy wedding!
12+ Ucapan Pernikahan Islami Dalam Bahasa Inggris Secara Singkat
Congratulations – may your years together be filled with love and joy!
May your love for each other grow stronger with each passing year.
Here's to a lifetime of love!
Wishing you well as you embark on this next chapter.
Thank you for letting us share in your special day. We wish you all the happiness in the world!
Today marks the start of the rest of your life!
Wishing you long life and good health!
It is truly a joy to celebrate your love.
Here's to a long and happy life with the one you love.
Wishing you all the best together.
Congratulations on your blessed union!
May every day be filled with as much happiness as your wedding day.
May Allah bless your love.
Wishing you a lifetime of love and happiness.
10 Ucapan Pernikahan Islami Dalam Bahasa Inggris Secara Formal
May today be the beginning of a long and happy life together.
Wishing you everything of the best as you embark on this new chapter.
My sincerest wishes of joy, love, and happiness on your wedding day.
While your wedding day may come and go, may your love always continue to grow.
Here's to a lifetime of each other!
Best wishes on this wonderful journey together.
May your years ahead be filled with everlasting joy.
May the love you share today only grow stronger as you get older.
Best wishes as you begin building your lives together.
Our best wishes to you on your wedding day.
40 Ucapan Pernikahan Islami Dalam Bahasa Inggris Dari Orangtua Untuk Anak
My prayers are always with you son. May Allah bestow his blessings on you and your wife.
You were raised to be a devoted Muslim and that is exactly who you are now. May your married life be full of joy and happiness.
As a Muslim, you should respect your wife and love her immensely. I wish you a happy married life son.
All the best of luck to you my handsome son. May today mark the beginning of open doors in your life. Happy married life.
Allah who has been with you from the very beginning will continue to stay be you in every decision you make as you become a husband today.
Today you are taking a bold step to become a family man. Trust Allah to guide you, my son. It is well with you. Happy married life.
You have been a blessing to me since you came to this world. I pray Allah will continue to make you a source of blessing even to your new family.
My son, I am more than happy to witness this day. My prayer is that I'll continue to rejoice over your choice today. Happy married life, dear.
The day we have been looking forward to is finally here. How can I thank Allah for giving my wonderful son an awesome wife? May Allah bless your marriage, my dear.
The joy of every mother is to witness her child's wedding. As I have witnessed today, may Allah keep you in sound health to witness your children's. Happy married life, dear son.
My prayer has always been that you'll find a wife who'll be a lover, mother, and friend to you. I am happy Allah answered my prayers and here we are today. Happy married life, son.
What more can I say than to give all thanks to Almighty Allah, who kept me to this joyful day. May your marriage never be a mistake, dear.
May the blessing that follows marriage be lavished on you. You'll see your children, children. Happy married life, my son.
You are very special to me my son. Today I release you to another woman to care for you more than I'll do. May Allah give you peace with her. Happy married life to you.
From the day I gave birth to you, I have always known you'll make me proud. You brought a jewel and today you're marrying her. May Allah be with you both.
Today, you have added to the number of my children. You have brought to me a wife like a daughter. May Allah make both of you best friends forever. Happy married life, dear.
You can't know how excited I am today. My small boy is finally becoming a family man. All thanks to Allah. May your joy in marriage be real. Happy married life, dear.
I heartily congratulate my son today, for Allah has been merciful to him. You will never regret marrying your choice today. Happy married life.
May Allah bless your marriage and keep you united till the end of time. Happy wedding, my dear son!
We are blessed that how much she cares for you and makes you happy. Congratulations you two and welcome!
You brought me happiness from the day you were born till now. I am happy to see you getting married to such a devoted young man. I thank Allah for everything!
May Allah grant you and your husband a lifetime of beautiful and joyous moments. The memories you make, treasure them forever! Have a happy wedding.
I have always dreamt of this very day for you ever since you were a little girl. I have also prayed that you find your perfect match in life. May Allah bless you.
My beautiful daughter. I can't believe you'll be taken away from me today. I'll miss you but I can only pray that Allah will go with you. Happy married life, dear.
Your beauty shines bright like a star, my baby. I pray the peace and joy of marriage will increase your beauty for me. Happy married life, dearie.
A man has found you and chose to make you his wife today. May Allah help you both to make a perfect couple. Happy married life.
What this man see in you that brought him down here to ask for your hand in marriage, may Allah sustain it. Congratulations, my daughter.
You have not only brought your husband to me, you have also added to the number of my children today. My daughter, you're in safe hands. Happy married life.
The Grace that gave you your destiny husband, may it continue to guide you through this journey. Happiness shall not seize from your home. Happy married life.
As you have honoured us and made us proud today, may Allah give you wonderful seeds that will honour you. Happy married life, dear.
May you never regret the decision you're making today, my daughter. Allah will make your husbands heart your dwelling place forever. Happy married life.
You're the bride of today. The reason we have come together to celebrate. I pray to Allah to keep you as an object of joy and jubilation. Happy married life, dear.
Finally, here is the man who has stolen my daughter's heart. I pray your heart will forever be in his possession. Happy married life.
As from today, the Almighty Allah will make you both inseparable. Nothing shall ever come between you two. Happy married life, dear.
Congratulations on your wedding, dear daughter. May Allah make this man become your best friend, father, husband, and companion. Happy married life.
Joy overflow in my heart of heart today as I give my sweet daughter to a capable man. I know he'll take good care of you. Happy married life, my darling.
I have trained you well and I am sure you'll make a wonderful wife and mother. May Allah continue to teach you how to run your home. Happy married life, dear.
May Allah give you the fruit of marriage which is wonderful seeds early enough. You'll live to see your children, children. Happy married life, dear.
It was Allah's ever so generous gift that we had you as a daughter. Now its time for us to wish you a peaceful and blissful married life ahead!
You were raised as an obedient Muslim and now you're joining a Muslim family as a proud wife to your husband and a precious daughter to his parents! Happy wedding!
Itulah beberapa rekomendasi ucapan pernikahan Islami, baik itu yang bahasa Inggris atau bahasa Indonesia. Semoga semua pembahasan di atas memudahkan kamu dalam memberikan ucapan pernikahan kepada teman atau saudara.
Untuk mendukung Grameds dalam menambah wawasan, Gramedia selalu menyediakan buku-buku berkualitas dan original agar Grameds memiliki informasi #LebihDenganMembaca. Jika ingin mencari buku tentang pernikahan, maka kamu bisa mendapatkannya di gramedia.com atau kamu bisa melihat beberapa rekomendasi buku tentang penrikahan di bawah ini.
5 Rekomendasi Buku Terkait
1. Ensiklopedi Fiqih Indonesia: PERNIKAHAN
Tidak selamanya menikah itu sunnah. Kadang malah wajib, mubah, makruh, bahkan haram. Hukum pernikahan bisa berbeda-beda bagi setiap orang, tergantung kasusnya. Dalam syariat Islam, demi menjaga garis keturunan dan kehormatan, ada famili yang tidak boleh dinikahi, misalnya ibu kandung, anak perempuan, saudara perempuan, bibi, keponakan, termasuk saudara sesusuan.
Bukan hanya membahas tema menarik di atas, Ensiklopedia Fiqih Indonesia ini juga dilengkapi pembahasan tentang rukun-rukun nikah, nikah yang bermasalah, termasuk juga bagaimana status hukum tentang terurainya tali ikatan pernikahan, seperti talak dan fasakh.
2. Buku Saku (Wajib) Persiapan Pernikahan Islami
Untuk itu, buku ini hadir membantu para pemuda, pasangan, orang tua, dan juga konselor pra-pernikahan dan keluarga agar mereka memiliki pemahaman yang komprehensif terkait persiapan pernikahan. Bagi mereka yang akan menikah, buku ini bisa digunakan sebagai bimbingan yang praktis terkait persiapan pernikahan. Bahkan bagi pasangan yang sudah menikah pun tidak terlambat dalam menggunakan buku ini, karena buku ini tetap masih compatible bagi mereka.
Diharapkan dengan hadirnya buku ini, konflik rumah tangga yang berasal dari persiapan yang belum dilakukan bisa dihindarkan dan segera dibenahi.
3. Tuntunan Pernikahan Islami
Tuntunan Pernikahan Islami ini merupakan karya ulama pakar hadits ternama, Syaikh Muhammad Nashiruddin al-Albani. Melalui karyanya ini, beliau berusaha menghidupkan sunnah Nabi s.a.w. dalam penyelenggaraan pernikahan dengan memaparkan berbagai perkara yang berkaitan dengan adab pernikahan, seperti penyelenggaraan walimah, kewajiban memenuhi undangan walimah, larangan saat penyelenggaraan walimah beserta sunnah-sunnahnya, adab suami kepada istri, dan diakhiri dengan nasihat untuk suami istri.
Bahasan yang tuntas dan jelas serta bahasa yang mengalir, membuat buku ini mudah untuk dipahami dan dipraktikkan oleh siapa saja. Semoga buku ini bermanfaat bagi umat hingga membuat kita semakin bersemangat mengikuti sunnah Nabi Muhammad SAW"
4. Yang Terlewatkan Dalam Pernikahan
Buku ini ditujukan khususnya untuk orang-orang yang akan mengakhiri masa lajangnya dengan berkomitmen dalam suatu pernikahan yang diidamkan, serta buku ini dapat dijadikan sebagai referensi tambahan bagi yang sudah menikah. Namun demikian, buku ini tidak berisi hukum-hukum fikih yang rumit dan sudah banyak dibahas di buku-buku lain.
Buku ini justru membahas hal-hal yang mungkin terlupakan atau memang jarang dibahas dalam literatur-literatur tersebut. Sedangkan bahasan yang ada di buku ini, menurut hemat penulis, sangat penting dan harus dikuasai. Oleh karena itu, penulis berharap para pembaca tidak hanya sebatas membaca sampai di sini saja, tapi dilanjutkan kepada referensi lain yang lebih lengkap dan memang membahas topik-topik yang ada di buku ini secara mendalam.
5. Baper (Bawa Pernikahan)
Buku tentang pernikahan ini ditulis oleh Nasrullah Nurdin, S.S., Lc., M. Hum. Berawal dari kegusarannya melihat anak muda yang semakin jauh dari Allah setelah mengenal cinta, penulis pun menuliskan buku ini. Ditulis secara ringan namun padat berisi hingga mudah dipahami dan tentunya dilaksanakan oleh para pembaca.
Cinta dan pernikahan serta perceraian. Ya, begitulah tampaknya isu-isu yang menarik hati di zaman milenial sekarang ini. Tanpa rasa cinta, hidup begitu tak bermakna. Hampa terasa. Entah mau pergi ke mana. Gusar, gundah-gulana. Karena cinta para pecandu cinta dipenuhi kegalauan, kebimbangan, dimabuk asmara yang tak bertepi bahkan lupa diri pada Illahi Rabbi. Sejatinya rasa cinta yang kita miliki harus bermuara pada ketakwaan hakiki. Bagaimana wujud cinta yang membawa pada ketakwaan hakiki?. Silakan baca dan khatamkan buku ini.
Sumber:
Baca Juga!
ePerpus adalah layanan perpustakaan digital masa kini yang mengusung konsep B2B. Kami hadir untuk memudahkan dalam mengelola perpustakaan digital Anda. Klien B2B Perpustakaan digital kami meliputi sekolah, universitas, korporat, sampai tempat ibadah."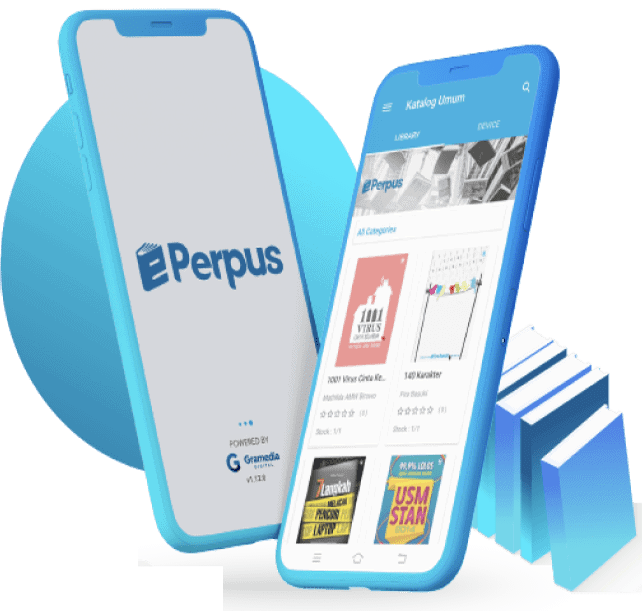 Custom log
Akses ke ribuan buku dari penerbit berkualitas
Kemudahan dalam mengakses dan mengontrol perpustakaan Anda
Tersedia dalam platform Android dan IOS
Tersedia fitur admin dashboard untuk melihat laporan analisis
Laporan statistik lengkap
Aplikasi aman, praktis, dan efisien