Film Gundala yang disutradarai Joko Anwar telah meraup lebih dari 705 ribu penonton selama empat hari pertama penayangannya di bioskop. Kisah tentang Sancaka (diperankan Abimana Aryasatya) yang bangkit membela keadilan dan kemanusiaan dengan kekuatan supernya ini merupakan adaptasi dari komik terkenal karya Harya Suraminata (Hasmi) yang terbit perdana pada 1969.
Melengkapi film Gundala tersebut, Bumilangit berkolaborasi dengan Koloni menerbitkan komik Gundala: The Official Movie Adaptation. Namun, berbeda dengan komik adaptasi film kebanyakan, komik Gundala ini malah menyajikan banyak cerita baru yang tidak dibeberkan di filmnya. Porsinya pun mencapai lebih dari 50 persen dari keseluruhan cerita dalam komik.
"Setelah syuting film Gundala selesai, konsep komik ini baru dipikirkan. Joko Anwar dengan Mas Oyas (Oyasujiwo, penulis komik ini) rapat menentukan topik cerita komik ini. Mereka mau lebih sederhana dari filmnya. Nah, yang spesial ternyata ada penggalian cerita yang lebih dalam lagi," ujar Ardian Syaf, pencil artist komik Gundala: The Official Movie Adaptation ini, di kantor Bumilangit, Jakarta, pada Jumat (30/08/2019).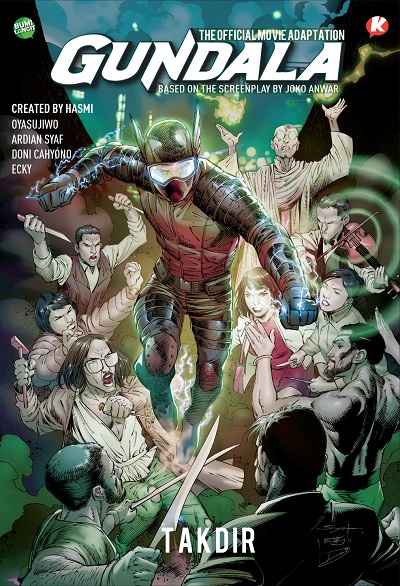 Film Gundala, yang skenarionya juga ditulis oleh Joko Anwar, sendiri berkisah tentang Sancaka yang sejak kecil harus bertahan hidup di jalanan tanpa orang tuanya. Ia lalu tumbuh menjadi pemuda yang memikirkan keselamatan dirinya saja. Namun, keadaan kota memburuk dan ketidakadilan menindas masyarakat. Berbekal kekuatan supernya, Sancaka pun berdiri menjadi patriot.
Lantaran sebagian cerita komik tersebut mengungkap banyak hal baru, Doni Cahyono pun jadi tambah memahami keutuhan cerita film Gundala. Doni merupakan colorist komik Gundala: The Official Movie Adaptation. Tugasnya adalah mewarnai gambar komik yang sudah dibuat oleh Ardian Syaf.
"Setelah gala premiere, aku sebenarnya enggak paham ceritanya. Setelah ngobrol sama Mas Aan (Ardian Syaf), lalu baca komiknya lagi, baru aku paham lebih utuh ceritanya, 'Oh begini'," ungkap Doni, komikus Bumilangit yang berdomisili di Surabaya, Jawa Timur ini.
Sementara itu, Ardian Syaf sudah lebih dulu tahu tentang cerita film Gundala. Sebab, sebagai bekal awal untuk membuat gambar komiknya, ia menonton film Gundala versi setengah jadi (belum ada musik, efek suara, dan efek visual).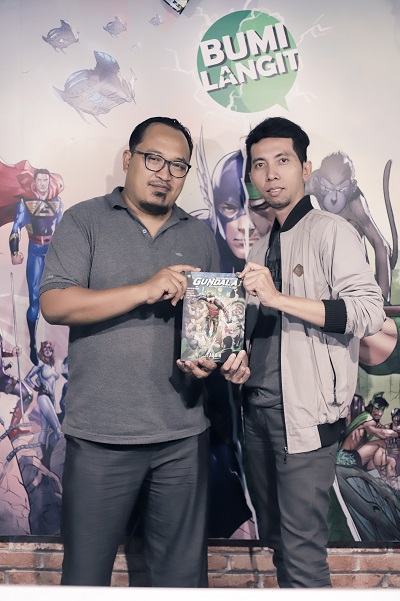 "Saat menonton itu, yang saya ingat adegannya saja. Cerita filmnya kurang saya perhatikan. Karena kan ada naskah cerita untuk komiknya yang dibuat Mas Oyas. Saya tinggal ikuti naskah itu. Saat menggambar, saya mengandalkan ingatan tentang adegan-adegan dalam filmnya. Kalau desain karakter itu sudah disediakan," jelas Ardian, yang juga pernah menjadi komikus di DC Comics dan Marvel Comics ini.
Setelah gambar komik dari Ardian jadi, Doni lantas lanjut mewarnainya. Namun, karena tidak menonton film Gundala versi setengah jadi lebih dulu, ia memberikan warna pada gambar komik dengan berpatokan pada 'colour mood'.
"Ya sudah, meraba-raba pakai feeling. Makanya ada beberapa scene enggak sama. Misal, ada kejadian siang, saya buat malam. Untungnya di beberapa adegan itu main mood warna. Jadi kalau adegan A, mood warnanya ini, kalau adegan B, mood-nya kayak begini," ungkap Doni.
Ardian Syaf dan Doni Cahyono mengerjakan komik Gundala: The Official Movie Adaptation selama empat bulan sejak awal tahun ini. Keduanya memang komikus di Bumilangit. Sebelumnya, Ardian mengerjakan komik Mandala Golok Setan, sementara Doni membuat Si Buta dari Goa Hantu. Dalam komik Gundala inilah mereka untuk pertama kalinya bekerja bareng. Mereka pun mengaku mengagumi komik Gundala karya Hasmi sejak kecil.
Komik Gundala: The Official Movie Adaptation akan terbit pada 4 September 2019 di seluruh Gramedia dan juga Gramedia.com. Jangan sampai ketinggalan, ya!
---
Sumber gambar header: Screenplay Bumilangit Produksi
---