Pernahkah menonton film kartun tentang kehidupan seekor rusa bernama Bambi di hutan belantara? Film animasi berwarna (technicolor) tersebut dibuat oleh Walt Disney dan rilis pertama kali pada 1942 selama Perang Dunia II. Bambi diadaptasi dari sebuah fabel berjudul Bambi, A Life in the Woods karya Felix Salten. Siapakah dia?
Felix Salten lahir pada 8 Oktober 1869 di Budapest, Hungaria. Bersama dengan keluarganya, Felix yang masih berumur beberapa minggu pindah ke ibukota Austria, Vienna. Laki-laki yang memiliki nama asli Seigmund Salzmann berasal dari keluarga yang miskin. Ayahnya mengalami kebangkrutan dan itu membuatnya harus bekerja saat remaja di sebuah perusahaan asuransi. Saat itulah, Felix mulai mengirimkan puisi, surat, esai, dan cerita pendek ke beberapa koran dan jurnal.
Saat usia 18 tahun, Felix Salten sudah menjadi penulis penuh waktu untuk sebuah pers. Saat itu jugalah ia bergabung dengan gerakan Jung-Wien (Young Vienna) yang adalah organisasi para penulis muda Vienna. Mereka akan berkumpul selama berjam-jam membahas tentang ide-ide kepenulis di sebuah kafe benama Café Griensteidl.
Kepiawaian menulisnya membuat Felix Salten menerbitkan beberapa karya. Karya pertamanya adalah buku kumpulan cerita yang diterbitkan pada 1901. Felix juga menjadi kritikus teater yang berpengaruh di Austria dan Jerman. Pada 1927, ia menjadi kepala PEN International cabang Austria. PEN International adalah sebuah asosiasi penulis global yang berdiri sejak 1921 di London, Inggris.
Bambi, A Life in the Woods karya Felix Salten rilis pada 1923. Saat itu buku tersebut hanya diterbitkan dalam bahasa Austria dengan judul asli Bambi: Eine Lebensgeschichte aus dem Walde. Lima tahun berikutnya, buku versi bahasa Inggrisnya yang diterjemahkan oleh Whittaker Chambers terbit. Bisa dibilang, kisah rusa bernama Bambi inilah yang membuat Felix Salten diakui di segala penjuru dunia.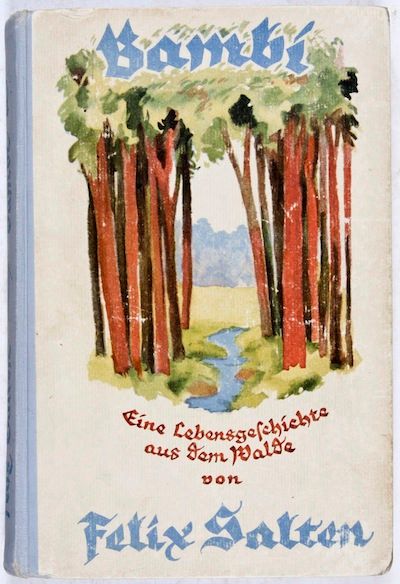 Sebagaimana kisah kehidupan dari kecil sampai dewasa, Bambi menemukan kesulitan pada masa-masa transisi. Setelah begitu disayang oleh sang ibu pada masa kecilnya, ia ditinggal oleh sang ibu saat dirasanya sudah dewasa. Bambi bertemu hal-hal tak terduga—salah satunya manusia yang masuk ke hutan dan menakuti hewan-hewan di sana. Menangisi kondisinya, Bambi mulai terbiasa dengan kesendiriannya.
Kisah Bambi mungkin mengandung dramatisasi yang dibutuhkan pada masanya sehingga buku ini jadi semakin laris terutama setelah diterjemahkan ke dalam bahasa Inggris. Pada 1933, Felix Salten menjual hak film Bambi seharga $1.000 kepada sutradara Sidney Franklin yang kemudian dijual lagi ke Disney. Film Bambi kemudian rilis pada 1942 dan jadi box-office. Sayangnya, Felix tidak menikmati keuntungan dari film adaptasi ceritanya.
Felix Salten mungkin akan terus dikenang sebagai pengarang Bambi. Seperti tidak bisa move on, ia menerbitkan buku tentang Bambi lagi dengan judul Bambi's Children: The Story of a Forest Family pada 1939. Sudah hampir 100 tahun sejak Bambi, A Life in the Woods pertama kali terbit, kisah tentang seekor rusa di hutan belantara yang klasik itu masih tetap dibaca dari generasi ke generasi.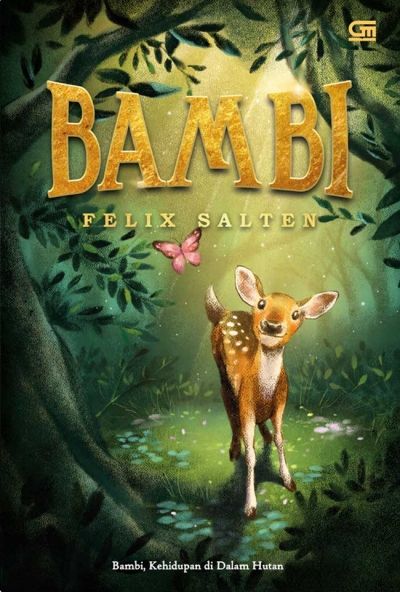 Versi bahasa Indonesia Bambi, A Life in the Woods karya Felix Salten sudah diterbitkan tahun 2019 ini. Versi tersebut diberi judul Bambi: Kehidupan di Dalam Hutan. Memperingati ulang tahun Felix Salten pada 8 Oktober, buku ini bisa masuk ke daftar bacaan bulan Oktober kamu. Temukan di sini!
Referensi: haaretz.com
---
Sumber gambar header: rjdent.wordpress.com, nl.fanpop.com
---